Biographie
Born and raised in Paris, France and Great Britain, i am a French Photographer and Director actually living in Correggio(RE), Italy.
I specialize in Jewelry, Fashion, Industrial photos and videos, produce and direct TV Commercials, Corporate and Music videos.


1976
Born in France, Fontenay aux Roses (92)


2000


2018
Transfer to Correggio (IT)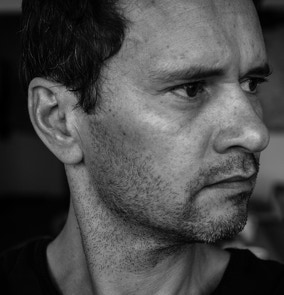 Services
I am available worldwide.
Send me a message here for more information
Photo :
Jewelry
Fashion
Industrial
Portrait
Packshot
Vidéo :
TV Commercial
Industrial
Event
Music Video
Fashion
Methodology
All projects have a purpose, a story to tell or a product to reveal.
Which is your case ? Both is great. My goals are various : Write a compelling story, Propose great creativity and strategy, Respect delays and budget and Promote it to maximise visibility.


Each project is different and needs specific talents. In each case, i try to gather the best people to match the requirements.


During my career, i have had an eye or serviced on most of the key aspects of a project and managed more than 60, to make it flow in the right direction.


1.
Creation
As an Art director, i imagine stories and create mood boards to make it visible for all the client and team.
When we are on parr, to what the story will be, a storyboard is made, by a professional or myself.


2.
Preparation
First i choose a team and a location or studio to set the decor. Set designer, Stylist, Model, Cinematographer... We can work anywhere, in France or Italy.


3.
Shooting
One Day, two days. All depends of the complexity of the project. It is the most thrilling moment, when all the pieces come together.


4.
Post production
It is the most time consuming moment but essential to enhance all the previous efforts.
Editing, color, retouching ; i have had the opportunity to cover all these aspects personally.


5.
Strategy
Good Digital communication needs strategy. Nice creativity is of no use if it is not carried out to your target in the right way. I work with specialists to make sure your money is well spent.




Would you like to talk ?
Clients
Giorgio Visconti
Emme (Marella)
Fregoli
VO+ magazine
Chaumet
Van Cleef & Arpels
Krug
Chaling
Expert
Greenpipe
…